|
About Northeast Technical Institute
Northeast Technical Institute
"Career Training for a better life"
Headquartered in Scarborough, Maine, Northeast Technical Institute is the region's leading provider of short-term, career-focused training.
NTI is a privately held Maine career school that continues to grow and expand its course offerings. Currently, NTI's curriculum includes Healthcare, HVAC/R, and Commercial Truck Driving.
Mission & Vision Statements
We provide short-term, hands-on career training that is driven by industry needs, national certifications, and employer partnerships, with the goal of employment opportunities for our graduates.
NTI will be a trusted leader in delivering exceptional career and continuing education. We will use student relationships, employer connections, and community outreach to ensure leading-edge training in relevant fields, resulting in a direct impact on the local economy and positive economic growth.
Northeast Technical Institute (NTI) understands the importance of every student's desire for personal and career success and we are pleased you are considering us to help you achieve your goals!
Technical schools have become integral to New England's business and industrial communities. Our purpose at NTI is to provide affordable and meaningful opportunities for our students. We're committed to embracing change and anticipating emerging trends in the employment marketplace, as well as in the society we serve.
Our pledge to you is not only to create abundant opportunities by offering the very best short-term educational programs but to also provide comprehensive and accessible student services to foster your success.
We encourage you to explore the many learning opportunities available to you at NTI. You will be in control of your own future – "the architect of your own destiny!"
Thank you and good luck,
James Liponis
President
Northeast Technical Institute, Inc
In the mid 1990's Chris Liponis, founder of a successful career training school in New Hampshire, saw the need for a similar operation in the Southern Maine community where he was born and raised. A family business, Northeast Career Schools in New Hampshire served the needs of over ten thousand students in the fields of professional truck driving, allied health and information technology for over 15 years. The focused training filled the needs of underemployed and unemployed adult students looking for skills that would garner job security and a better standard of living.
With the sons in the family business, Chris saw the opportunity to open a smaller version of the same school in South Portland, Maine. His son James relocated to Southern Maine to facilitate the school opening and take control of day-to-day operations. Northeast Technical Institute was established in the summer of 1995 and began training students at its South Portland campus. The school began with a few short courses in a small space and with a modest array of teaching equipment.
By 2000, NTI had relocated to new facilities in Scarborough, Maine. With more offices, more classrooms, state-of-the-art teaching facilities, and equipment, the decision was made to open a small campus in northern Maine. In the following years, the reputation of NTI grew in the Maine community as a small but successful, student-friendly school with training for students of all ages and backgrounds.
Council on Occupational Education (COE) Accreditation
In September of 2010, Northeast Technical Institute's Scarborough and Bangor campuses achieved accreditation through The Council on Occupational Education (COE). Originally founded in 1971 as a regional accrediting agency of the Southern Association of Colleges and Schools, COE is the successor to the Commission on Occupational Education Institutions.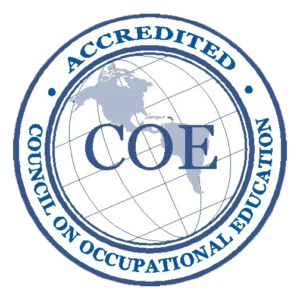 Council on Occupational Education
7840 Roswell Road
Building 300, Suite 325
Atlanta, GA 30350
Telephone: 770-396-3898
Fax: 770-396-3970
council.org
What Type Of Institutions Does COE Accredit?
The Council on Occupational Education accredits post-secondary occupational institutions that offer certificate, diploma, or applied associate degree programs. These institutions include public technical colleges, private career colleges (both for-profit and not-for-profit), Army, Navy, and Department of Defense institutions, and Job Corps Centers.
Accreditation is the affirmation that a school provides a quality of education that the community has a right to expect and the education world endorses. Accreditation is a means of showing confidence in a school's performance.
When the COE accredits a school, it certifies that the school has met the prescribed qualitative standards within the terms of the school's own stated philosophy and objectives. The chief purpose of the whole accreditation process is the improvement of education by evaluating the degree to which a school has attained worthwhile outcomes set by its own staff and community.
This is accomplished by periodically conducting a comprehensive self-evaluation of the total school. Through the accreditation process, the school seeks the validation of its self-evaluation by obtaining professional judgement from impartial outsiders on the effectiveness of the total school operation. The intent throughout the process is more than to focus on shortcomings; the chief goal is to seek remedies for inadequacies and to identify and nurture good practices.
Accreditation of a secondary school is on an institutional basis. It should be noted that the whole school, not just one program is covered by the accreditation. The following are some of the many benefits of accreditation:
Greater clarity of purpose
Stronger internal relationships
Wider professional participation
More effective methods of planning for school improvement
Improved consistency between educational purpose and practice
Accredited by the Council on Occupational Education
Licensed by the Maine Department of Education
Licensed by the Maine Secretary of State
Member of the Maine Motor Transport Association
Maine State Approving Agency for Veteran's Education (Scarborough, Bangor and Auburn)
Department of Employment Security (ME, NH)
Certified Employee Training Program (CETP)
National Oilheat Research Alliance (NORA)
Environmental Protection Agency (EPA) Certified Testing Provider
Member of the Commercial Vehicle Training Association (CVTA)
National Healthcareer Association (NHA)
American Medical Technologists (AMT)
Medical Career Assessments (MedCA)