Northeast Technical Institute
is accredited by the
Commission of the Council on Occupational Education.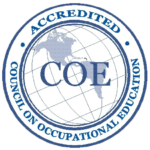 In September of 2010, Northeast Technical Institute's Scarborough and Bangor campuses achieved accreditation through The Council on Occupational Education (COE). Originally founded in 1971 as a regional accrediting agency of the Southern Association of Colleges and Schools, COE is the successor to the Commission on Occupational Education Institutions.
Council on Occupational Education
7840 Roswell Road, Building 300, Suite 325
Atlanta, GA 30350
Telephone: 770-396-3898 / Fax: 770-396-3970
council.org
What type of institutions does COE accredit?
The Council on Occupational Education accredits post-secondary occupational institutions that offer certificate, diploma, or applied associate degree programs. These institutions include public technical colleges, private career colleges (both for-profit and not-for-profit), Army, Navy, and Department of Defense institutions, and Job Corps Centers.
What is accreditation?
Accreditation is the affirmation that a school provides a quality of education that the community has a right to expect and the education world endorses. Accreditation is a means of showing confidence in a school's performance. When the COE accredits a school, it certifies that the school has met the prescribed qualitative standards within the terms of the school's own stated philosophy and objectives. The chief purpose of the whole accreditation process is the improvement of education by evaluating the degree to which a school has attained worthwhile outcomes set by its own staff and community. This is accomplished by periodically conducting a comprehensive self-evaluation of the total school. Through the accreditation process, the school seeks the validation of its self-evaluation by obtaining professional judgement from impartial outsiders on the effectiveness of the total school operation. The intent throughout the process is more than to focus on shortcomings; the chief goal is to seek remedies for inadequacies and to identify and nurture good practices. Accreditation of a secondary school is on an institutional basis. It should be noted that the whole school, not just one program is covered by the accreditation. The following are some of the many benefits of accreditation:
Greater clarity of purpose
Stronger internal relationships
Wider professional participation
More effective methods of planning for school improvement
Improved consistency between educational purpose and practice
Find Out More
The best way to see if going to school and training in a professional career is right for you is to visit the NTI campus nearest you. You can tour our modern facilities and meet with our instructors who work in this field. Click here to schedule your free campus tour, request more information, or call 1-800-447-1151 today.