Arduino Day Wrap-Up
By Barry Magda, IT Instructor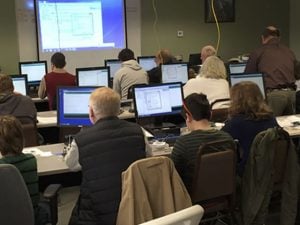 Arduino Day created a great amount of good will from participants, in a universally positive day.
On Saturday, April 8th, NTI held its first Arduino Day event. We had an eclectic gathering of folks getting together to celebrate, with a full house for the workshop sessions. We had experienced software and hardware developers, teachers, librarians, folks from the maker community and young people who brought their parents and / or grandparents to participate and share in the high energy learning environment.
We went through quite a bit of Arduino technology in a short period of time, enough to ignite sparks of creativity, give a great foundation to do a lot more on their own, and a desire to go further from all of the participants.
Thanks to all who contributed to the effort of making the day a big success!