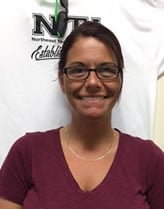 Always looking for an opportunity to learn, master and mentor, Bonnie Doyon has been an inspiration to the Lewiston Campus since she started her training as a Clinical Medical Assistant last June.  She's made many contributions to staff and her follow classmates and is always willing to help others, making her a valuable asset to the NTI community!
Bonnie's positive attitude and can-do spirit is infectious and she's always eager to find a way to lend a helping hand. Her passion to help others has impressed both students and staff over the past nine months and we're all going to miss Bonnie when she graduates in just a few weeks.
Bonnie's passion, leadership, grades, and attendance have earned her the title of February 2017's Student of the Month! Congratulations Bonnie!