Graduates go to work with local manufacturing companies
Northeast Technical Institute (NTI) is pleased to honor the first graduates of its new Manufacturing Technician program.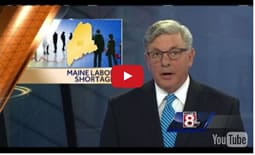 NTI partnered with well-known companies like; Oakhurst Dairy, SIGCO, New England Tech Air, Schlotterbeck and Foss, AdvancePierre, Bristol Seafood and others to develop a program that would position graduates to be "work-ready". The plan paid off – employers began interviewing and filling production positions with qualified candidates upon graduation.
Ruth Anne Haley of the Maine Department of Labor, praised NTI for its responsiveness to the needs of the manufacturing community:
The greater Portland area has many manufacturing opportunities and the Manufacturing Technician Certificate provides entry level skills that will transfer across any sector.  The certificate training offered through NTI prepared a dozen people to enter positions, prepared and ready to start on day one." Ruth Ann further stated "The Competitive Skills Scholarship Program provided financial support for several of the participants, who would not otherwise be able to attend.  Everyone had a job offer at the completion of the training, will be working full-time, and, more importantly, able to provide for their families.
The Manufacturing Technician program teaches precision measurement, blue print reading, workplace safety, shop math, computer applications, lean manufacturing, advanced manufacturing concepts, basic hand tools and workplace communication. Students quickly develop marketable skills leveraging their manufacturing expertise across a wide variety of open positions in food processing, precision manufacturing and sheet metal fabrication.
The link between industry and academia is extremely important. Now more than ever, with a shortage of skilled labor, we must invest in people and systems that transfer knowledge rapidly. New recruits must be made available to fill job vacancies. NTI, through its Manufacturing Technician Program, is providing a continuous flow of qualified and talented workers, ready to improve a company's competitiveness.  

Peter Weymouth, Manufacturing Technician Instructor
NTI is now enrolling for its next Manufacturing Technician class, which begins on October 17th.