Scarborough Campus Graduates 102 Students at its Quarterly Ceremony
Scarborough, ME 7/9/2014 – Since the Spring Graduation ceremony in April, 102 students have graduated from career training programs at Northeast Technical Institute's Scarborough campus. A ceremony  held at the Marriott at Sable Oaks in South Portland included family and friends of the graduates as well as NTI instructors and staff, a recent graduate speaker, David Aaskov, and key note speaker, BethMarie Stacey, Human Resources Professional and small business owner.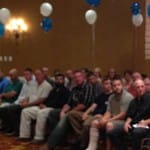 Graduates from all program areas; Allied Medical, HVAC/R (heating, ventilation, air conditioning, refrigeration), Information Technology and Commercial Drivers' License (CDL) were celebrated in the hour long ceremony which included remarks from BethMarie Stacey. Ms. Stacey praised students for their determination and resolve and reminded them about the importance of personal responsibility and accountability in their new careers. She shared her experiences of being able to make a mistake, learn and move through it, to provide inspirations to the graduates. She allowed the children and family members of the graduates to stand and cheer their loved ones for their accomplishments. David Aaskov, who graduated from NTI's HVAC/R program in April 2014 with a 4.0 GPA,  and is working successfully as an HVAC Technician, shared the challenges he overcame in his personal life and expressed his appreciation for the quality of training and support he received as a student at NTI.
The Career Services Team at Northeast Technical Institute provide graduates with significant coaching, training and support as they search for positions in their new careers and most have jobs in their chosen field right after they graduate.
Northeast Technical Institute is a career school with campuses in Bangor and Scarborough. They attract a diverse student base seeking training in highly employable fields like Allied Health, Commercial Drivers' License, Information Technology and HVAC/R (heating, ventilation, air conditioning and refrigeration).  The school offers job placement assistance, flexible scheduling, and federal financial aid for most programs and for those who qualify.  For more information, go to www.ntinow.edu.