Scarborough, ME (November 3, 2014) – Northeast Technical Institute (NTI) announced today the appointment of Annemarie Dawson, Lead Medical Instructor, Scarborough, Maine campus, to the position of Recording Secretary/Officer of the American Medical Technologists, Maine and New Hampshire State Society.
Along with her responsibilities as Lead Instructor, Annemarie has also recently been given the role of Institutional Improvement Specialist due to her leadership skills and ability to work effectively with all NTI departments.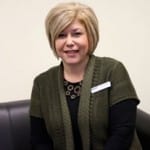 She brings with her 15 years of medical experience with schools and medical offices including four years at NTI. Her knowledge and excitement for education and the healthcare industry is exceptional as is her creativity and genuine compassion with her students.
Ms. Dawson hopes to provide information to students both at NTI and other schools in Maine and New Hampshire about the value of professional certification.
American Medical Technologists has been certifying and supporting allied health professionals for 75 years and is now has 60,000 members internationally.
As an institution of higher education, Northeast Technical Institute dedicates itself to provide the highest quality, short-term career education that provides its students with the necessary skills and certification required to obtain employment after completion.
NTI's students, staff and management congratulate Annemarie as she continues her career excellence.
Northeast Technical Institute is Maine's only locally owned and operated accredited career school, with campuses in Scarborough and Bangor, Maine. NTI is a VA approved school and offers Federal Financial Aid for many of its programs and for those who qualify. With its short-term, hands-on approach to training, NTI graduates are job-ready, may earn national certification and are prepared to meet the industry's overwhelming needs and demands for qualified professionals. The school offers in-demand training for a range of medical programs, including Medical Assistant, Medical Lab Assistant, Medical Coding and Billing, Phlebotomy, Information Technology (PC Repair, Network Administration), HVAC/R and CDL Truck Driving. Classes start each week or month for most programs.
To learn more about Northeast Technical Institute, visit ntinow.edu or call (800) 447-1151