Thanks to a partnership with the Maine Career Center, new Mainers are ready for work.
Scarborough, ME—Last week, Northeast Technical Institute graduated thirteen students from its Manufacturing Technician program. The program is part of the manufacturing career pathway which prepares students for a variety of entry level positions in the manufacturing industry.
Prior to graduation, three students were already hired by local companies with all other graduates currently interviewing for positions with expectations to be hired soon.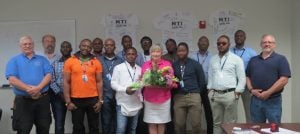 "Being part of the Northeast Technical Institute Manufacturing Technician program was really very amazing. The people, courses, materials, and environment were all of a high level. From day one, when the program started to the end, we have learned so much that we gained confidence to apply and work in the field of manufacturing. I am really grateful to the Northeast Technical Institute team and would like to thank them all," Sam Kabund Kaking, program graduate.
One of the unique aspects of this particular graduating class is that all of the students were recent immigrants to the United States. Northeast Technical Institute partners with the Maine CareerCenter to not only help provide job training and placement but also assimilation into the culture and country.
"I am happy to support employers with training opportunities and appreciate the partnership with Northeast Technical Institute," added Greater Portland CareerCenter Consultant, RuthAnne Haley.
Northeast Technical Institute's Manufacturing Technician program provides students with core competencies in: bench-work, precision measurement, blue print reading, industrial safety, technical math, computer applications, lean manufacturing, manufacturing concepts and workplace skills/communication and leadership development. Students then have the opportunity to select an area of concentration in the manufacturing industry upon successful completion of the classroom portion of their program.
Northeast Technical Institute has now graduated four Manufacturing Technician programs at its Scarborough campus with placements at more than 30 companies. The next Manufacturing Technician programs begin in Scarborough and Lewiston on September 11. The new class represents the inaugural class at the Lewiston campus.
For more information about the Manufacturing Technician program or any of Northeast Technical Institute's other courses, call 207-805-8000 or visit our Programs page.