By Brenna Kelly
WABI News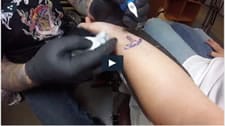 16 people celebrated being cancer free with a little ink Wednesday morning.
Diversified Ink in Bangor giving cancer survivors a reason to smile, with free tattoos.
The pain was no worse than a sunburn, they say. A small needle is nothing compared to what they've overcome.
"Knowing what she potentially went through and feeling that and signifying that for her and being the one that actually captures that is indescribable for me," said Diversified Ink owner Ed Sheffer.
"I've wanted to do this for nine years now and I've cancelled five appointments and never gone through with it. So everyone said I was gonna chicken out and not go through with it and I was like nope it's too meaningful. I have to do it," said Katie Freeman, a nine-year cervical cancer survivor.
Jason Drake says he's been artistic all his life, but only found tattooing a few years ago.
"I live for this," said Drake.
This, he says, is his opportunity to give back.
"I just want them to know that I care. That I care what they've been through and that I admire them for making it through," he said.
Jennifer Kigas says she wanted a simple design, but Drake says he knows his art has a much deeper meaning than the pen he paints with.
"It's a special kind of bravery. Not everybody can, not everybody does. And…I have a great deal of respect for the people that have out up that fight and won," said Drake.