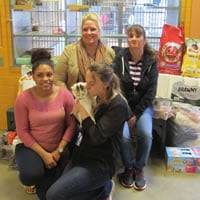 April 19, 2017, Lewiston, ME – The Student Leadership Council at Northeast Technical Institute's (NTI) Lewiston Campus spent March 27 to April 7 collecting donated items and goods for the Greater Androscoggin Humane Society, located in Lewiston. The GAHS is a public, no kill shelter, committed to strengthening the community by supporting humane care of animals and fostering the human-animal bond. With over 129 years in the Lewiston area, GAHS relies heavily on community support to assist with the care of adoption of the nearly 4,200 animals they support yearly.
NTI's Student Leadership Council develops and plans activities and events to benefit students and community. The GAHS donation drive collected pet food, bedding, and cleaning supplies from students, staff, community members, and included a generous donation from NTI management. Student Leadership Council members Jaimi Bard, Chair, Keshia Lavoie, Assistant Chair, Melissa Holmes, Secretary, and Tammy Hart, Treasurer, delivered the items to the GAHS, and explored the facility, playing with the cats in the sun room and visiting with the other shelter animals.
It is so encouraging when a donor makes it possible for us to save one more life – which is exactly what you have done with your recent donation of pet food, bedding and cleaning supplies on April 10th.  Steven Dostie, Executive Director of GAHS – Read More
The SLC was thrilled with the results of their first donation drive, and look forward to future events, including participating in the upcoming "Walk for Wishes" in support of Team Alexis on May 18 to benefit the Make a Wish Foundation.
Northeast Technical Institute, with campuses in Lewiston, Scarborough and Bangor, is Maine's only locally owned and operated, accredited career training school. NTI is VA approved and offers financial aid for qualifying programs and students. For more information, call (207) 805-8000 or visit NTI online at ntinow.edu.