Nearly 200 students graduated from the Scarborough and Lewiston campuses
The Marriott Hotel in South Portland was the site of the graduation ceremony for the graduates of NTI, where family and friends celebrated the culmination of many months of hard work for students in HVAC/R, Allied Medical, Information Technology and Commercial Truck Driving Certificate Programs.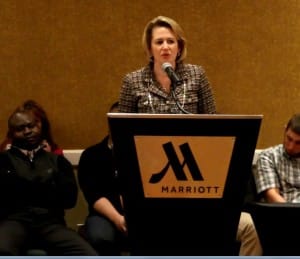 The event included two student speakers Amanda Queen and Randy Caron and keynote speaker, Julie Rabinowitz , the Director of Policy, Operations and Communication at the Maine Department of Labor.
Julie's remarks reinforced the students' decisions to further their education by letting them know they have chosen highly employable fields with well-paying in-demand jobs right here in Maine. From her position in the Labor Department, she sees how difficult it is for people to take the first step to improve their future and praised these graduates for the challenges they faced and overcame to complete their programs.
Julie explained why this is an especially good time to become certified in these fields due to the retirement of so many baby boomers and a significantly lower birth rate in the 90s the pool of qualified workers is rapidly diminishing . She strongly made the point that these graduates are needed right now and that these circumstances will translate to higher wages. This news was met with cheers from the graduates.
The advice that Julie shared with these graduates included how to get a job. She told the story of a recent hire at the Department of Labor where the successful candidate from 61 applicants was the only one who sent a thank you note following the interviews, she explained that one must show the employer how much they want the job. Additionally, she encouraged practicing answering interview questions with someone who will provide honest feedback. Julie observed that if you aren't getting interviews you need to improve your resume and if you are getting interviews but no offers, it is your interviewing skills that need improvement. She reminded the graduates that the NTI staff is a great resource for both of these areas along with the various Career Centers around the state. Julie encouraged graduates to take risks, continue to learn, and not stay in a job where you are not treated well.