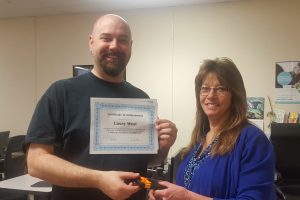 Congratulations to our November Student of the Month in Lewiston, Casey West!
Casey started at Northeast Technical Institute in the Spring, with an appetite for knowledge. Despite a background in IT and customer service, he wanted to make a complete career change. He has excelled in the Medical Assisting program, and is currently our first student extern at Intermed. Casey is Chair of the Student Leadership Council, and is always available to lend a hand for both students and staff, projects big and small. Casey has a bright future as an MA, and will be missed by all when he graduates in December.
Keep up the great work, Casey!