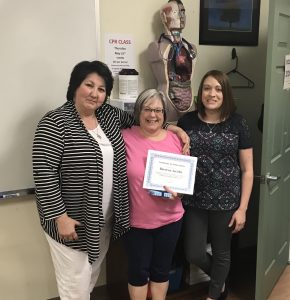 Congratulations to our April Student of the Month in Bangor, Theresa Jacobs!
Theresa has been a pleasure to have in class and has put in great effort throughout her time in the program. Even while working full-time, she maintains full-time attendance here at school. She has been able to maintain an important work-life-school balance, which is not an easy feat!
Theresa has worked hard academically and with her hands-on skills. She is about to complete clinicals and graduate from the Certified Medical Assistant program. The entire NTI staff agrees that she will be a great asset to any medical office team. We are very proud to award her with the Student of the Month Award for April 2018.
Keep up the great work, Theresa!