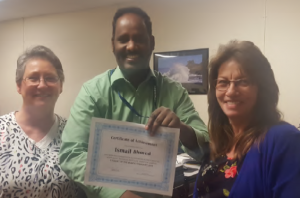 Congratulations to our March Student of the Month in Lewiston, Ismail Ahmed!
Ismail has shown extreme commitment throughout his entire time here. Since English is not his first language, he has worked very hard to be sure that he learns and understands everything that is expected and more. Ismail has shared a world of knowledge, wonder, character, and charm with his classmates and Instructors. He greets everyone with a smile, and has taught us that when you smile, the world will smile with you!
Keep up the great work, Ismail!