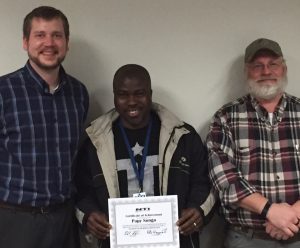 Congratulations to our March Student of the Month in Scarborough, Papy Songo!
Songo has been an exemplary student in his first few weeks of the Manufacturing Technician program. He has a perfect attendance record, stays thoroughly engaged in class, and has the highest test scores of the class. He is excellent about engaging with his classmates and brings a wealth of experience and knowledge from his previous employment, often sharing experiences to help the rest of the class learn. He has shown that he is not only reliable, but that he is committed to the class, his fellow students, and our teaching staff.
Keep up the great work, Songo!