Career / Student Services Team
Mark Roy
Career Development Advisor (Scarborough & Lewiston)
For the past several years, Mark has been working successfully with faculty, students, graduates, alumni and employers in helping to build the future of our students.  Mark has forged new partnerships in the local business community including Healthcare, HVAC/R, Information Technology, and CDL Truck Driving.  Mark has over 20 years of experience in the Human Resources and Staffing industry, and is passionate and energized when he assists graduates and alumni with securing a new job in their chosen field of study.  Prior to joining NTI, Mark was the Managing Director for 17 years at Manpower Professional and has always taken pride in matching people with the right job, at the right time.
Wendy Berube
Campus Manager (Lewiston)
Wendy has over 10 years experience in higher education, including 5 years of Career Development and Student Services.  She also spent 7 years in community relations, recruitment, and marketing for a non-profit child care program located in Lewiston.  At the Lewiston Campus, Wendy is responsible for management of the campus, Career Development, Student Services, and assists with Admissions.  Wendy is thrilled to be a part of a great team of NTI employees in Lewiston.  Wendy has a Bachelor's Degree in History and Education from the University of Southern Maine, and currently is the Vice President for the Board of the Auburn Police Activities League (Auburn PAL).
Nicole Kelley
Campus Manager
Nicole Kelley joins Northeast Technical Institute as the Campus Manager bringing more than a decade of recruiting and talent acquisition experience in the healthcare and technology industries. Previously at St. Joseph Healthcare and the Jackson Laboratories, Nicole has been successful in leading effective strategies to improve recruitment and retention, foster relationships with educational partners and employers, and create new recruitment pipelines. At Northeast Technical Institute, she will be responsible for planning, directing, and organizing school operations at the Bangor campus. Nicole is a graduate of the University of Maine Augusta and the Bangor Region Leadership Institute. A believer in lifelong learning, she is continuing her education at the University of Maine, Augusta.
Joe Costello
Student & Career Services Advisor (Bangor)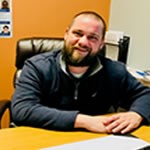 Joe is a native of Bangor, Maine who loves the outdoors and being on the water in his boat spending time with his family. He graduated from Bangor High School and completed a Human Service degree at the University of Maine, Augusta. Joe has worked in social services with youth and families helping them to set goals and better their lives.   That experience has helped Joe to successfully work with the school's diverse population and to establish each student's future by careful planning and preparation for training at NTI.