CDL-A Truck Driver Training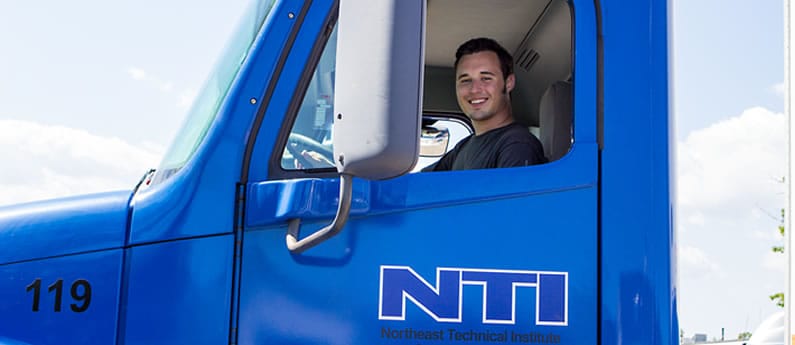 Train in Maine to Become a CDL Truck Driver in Weeks*
Program:  CDL A Basic
NTI offers Maine's only Nationally Accredited CDL truck driver training. Train at one of our Maine truck driving schools in just 5 weeks* full time or 10 weekends* part time.
NTI's CDL truck driver training school is designed to teach students safe operation of trucks and a working knowledge of the trucking industry and its regulations. This real world CDL training consists of behind-the-wheel practice at our driver training yard as well as driving in all country and city environments.
The best way to see if NTI is the right fit for you is to see it for yourself. You can tour our facilities, and meet with both students and instructors. Book a Tour Now or Get more info.
"I had a really great experience at NTI. I came here after working for a company for ten years that closed leaving me without any marketable skills to speak of. All of the staff and students were very helpful in making this transition a successful one! Thank you, NTI!"
– Randi Williams

Program Objective
Schedule a Tour Graduates of the Commercial Truck Driver (CDL) programs will posses the knowledge and skills necessary to obtain their CDL license (A) and gain employment as entry-level truck drivers. CDL Truck Driver training is offered at our Scarborough and Bangor, ME Campuses.
CDL Truck Driver Training FAQ's
When I earn my CDL A, does this mean I have to go on the road?

No. Many of the companies are hiring for local jobs.

Is job placement available?

While no school can guarantee you job placement, Northeast Tech's graduates high employment rate speaks for itself. The overwhelming majority of our graduates are able to choose from the many companies that recruit from NTI.

Where are classes held?

Corporate offices are in Scarborough, Maine. Training is available in Scarborough and Bangor, Maine.

What is the class schedule?

Classes are held from 7:00am to 5:30pm, Monday through Thursday, and 7:00am to 5:30pm, Saturday and Sunday for the weekend class.

What opportunities do women have in trucking?

Demand for women drivers have never been greater, many carriers are heavily focused on recruiting women drivers.

When I graduate, must I be a "Long-Haul" driver?

Carriers are quite diverse in their travel lanes, some are long-haul, some regional/dedicated and some are local. While there are local jobs available, there are more opportunities for long-haul drivers, and the pay is generally higher.

Will I have a CDL when I finish training?

After the end of training, you will be scheduled to take a State CDL test. While every effort is made to assist you in passing the test, we do not guarantee results. Should you fail the test, we will work with you to schedule another test and be there with you as you re-test.

My wife and I are interested, is there a demand for team drivers?

Yes, many carriers are looking for team drivers including husband/wife teams. This allows the carrier to move freight longer distances much faster.

Of course you should. Your training is important and instructor attention is crucial. At NTI, we have 12 instructors and 15 trucks, so we are equipped to deal with various class sizes. The State of Maine mandates hours of training (147.5 hours) and our training exceeds their requirements (200 hours). You can be sure that you will receive at least 23 hours of behind the wheel driving on the road and more than enough time to practice in our training yard. If the class size grows, we simply add instructors and trucks to accommodate. Most students enjoy friendships they make with their classmates while training at NTI. With our reputation and our commitment to the success of our students, it is understandable that our classes may be larger than some others.

What other costs should I expect to pay?

Your tuition covers all your costs related to training. Books, materials, DOT Physical, DOT drug test and the State licensing test are all covered. All you need to pay are retest fees with the State if you don't pass the test your first time. In Maine and New Hampshire, the fee is $15.00.

What is the Difference between a Class A and Class B License?

Class A and Class B differ primarily in their weight restrictions. Below is a break-down of the difference, as well as the endorsements available.
Restrictions
Class A:
Any combination of vehicles with a gross combined weight rating (GCWR) of 26,001 or more pounds, provided the gross vehicle weight rating (GVWR) of the vehicle(s) being towed is in excess of 10,000 pounds; holders of subclass A licenses may, with any appropriate endorsements and/or permits, operate all vehicles within subclasses B and C.
Class B:
Any single vehicle with a GVWR of 26,001 or more pounds, or any such vehicle towing a vehicle not in excess of 10,000 pounds GVWR; Holders of subclass B license may, with any appropriate endorsements and/or permit, operate all vehicles within subclass C.
Endorsements
H = Hazardous Materials
N = Tank
P = Passenger
S = School Bus/STV
T = Doubles/Triples
X = N + H Combined
Is a Career in Professional Truck Driving Right for You? Get More Info…
The best way to see if going to school and training in a professional Truck Driving career is right for you is to visit the NTI campus nearest you. You can tour our modern facilities and meet with our instructors who work in this field. Click here to schedule your free campus tour, request more information, or call 1-800-447-1151 today.
» This program is offered at the Scarborough and Bangor, ME campuses.
* Program length when completed in normal time.
Successful graduates of this program are awarded a Certificate.