Manufacturing Technician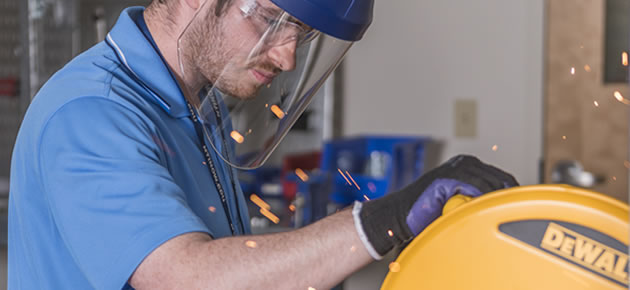 This program is offered at our Scarborough & Auburn campuses
The Manufacturing Technician program provides students with core competencies in: bench-work, precision measurement, blue print reading, industrial safety, technical math, computer applications, lean manufacturing, manufacturing concepts and workplace skills/communication and leadership development. Students then have the opportunity to select an area of concentration in the manufacturing industry upon successful completion of the classroom portion of their program. This program is part of the manufacturing career pathway which prepares students for a variety of entry level positions in the manufacturing industry.
The best way to see if NTI is the right fit for you is to see it for yourself. You can tour our facilities, and meet with both students and instructors. Book a Tour Now or Get more info.
"NTI has been an outstanding experience beginning with admissions and financial aid. NTI goes above and beyond to mentor each student to be competitive in the current job market. I have the tools I need to be successful thanks to NTI!"
– Paul Whitney

Program Objectives
Prepare students with the workplace skills including safety, manufacturing math, concepts, tools/bench skills that are needed for entry-level positions in the manufacturing industry.
Prepare students for entry-level employment with manufacturers, contractors, and other Maine businesses that may lead to a position as machine operator, sheet metal fabricator, welder, team leaders/supervisor, and more
Give students a thorough grounding in the fundamentals of professional development and customer service.
Emphasis is also placed on lean manufacturing throughout the program, proper safety practices and procedures, in the lab and the workplace.
Becoming a Confident Manufacturing Technician
As a graduate of this Maine-based program, you'll enter the professional world with self-confidence, secure in the knowledge that you have the necessary skills to and impress prospective employers. In this program you'll learn important skills, including:
Manufacturing Math
Workplace Skills and Communication
Computer Applications
Introduction to Blueprint Reading
Manufacturing Concepts
Measurement
Safety in the Workplace
Basic Bench Work
Introduction to Lean Manufacturing
Leadership Development and Career Readiness
Is a Career in Manufacturing Right for You? Get More Info…
The best way to see if going to school and training in a Manufacturing Technician career is right for you is to visit the NTI campus nearest you. You can tour our modern facilities and meet with our instructors who work in this field. Click here to schedule your free campus tour, request more information, or call 1-800-447-1151 today.