Network Administration Program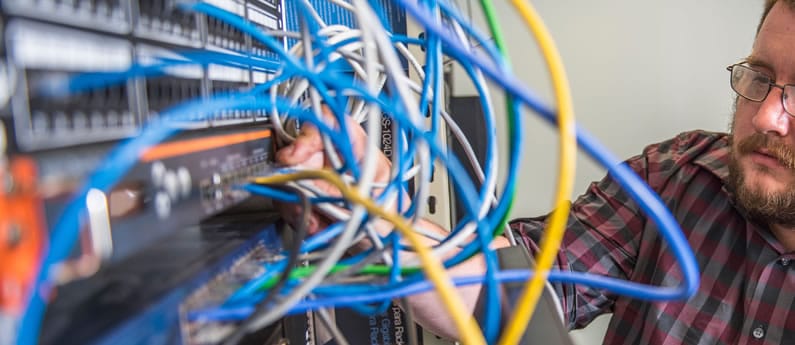 Become a Computer Network Administration & Design Professional in Maine
Program:  Network Administration and Design
Full & Part Time Programs Available
Hands-On Training in state-of-the-art labs
FLEX-TRAIN – Work at your own pace – customize the program to fit your life
This program is offered at our Scarborough and Lewiston, ME campuses.
Prepare to Pursue a Challenging & Rewarding IT Career
If you have an interest in computers and are looking to become established in a satisfying tech career, training in Network Administration & Design could be an excellent career path.
In this program, students learn how to analyze the needs and requirements of a business infrastructure and implement solutions based on the Microsoft Windows Server Platform. Responsibilities include installing, configuring and maintaining a server environment. This program helps prepare students for many industry certifications, including CompTIA® and Microsoft®.
Potential Career Opportunities
Skilled Network Admin & Design professionals may pursue employment in a variety of positions including:
Computer Repair Technicians
Desktop Support
Network Support
Server Administration
The best way to see if NTI is the right fit for you is to see it for yourself. You can tour our facilities, and meet with both students and instructors. Book a Tour Now or Get more info.
Becoming a Confident Network Professional
This program has a set of core courses and two sets of specialty courses (Windows or Cisco/Linux). All students take the core and one of the two specialties. The core introduces students to fundamental internet and computing skills including the use of Microsoft Office applications, and prepares students to sit for the Comptia A+, Network+, and Security+ exams by providing requisite knowledge and hands-on experience. The Windows specialty prepares students to sit for Microsoft Windows Client and Server certification exams. The Cisco/Linux specialty prepares students to sit for the CompTIA Linux+ exam and Cisco networking devices exams.
Core Courses 
Internet and Computing
A+ Essentials
A+ Practical Application
Network+
Security+
Students focus on these certification objectives:
CompTIA A+ 220-901 Certification Exam Objectives
CompTIA A+ 220-902 Certification Exam Objectives
CompTIA Network+ N10-006 Certification Exam Objectives
CompTIA Security+ SY0-501 Certification Exam Objectives
Windows Specialty Courses
Windows Client
Windows Server 1
Windows Server 2
Students who choose Windows Specialty will focus on these certification objectives:
Microsoft Windows 10 Exam 70-697
Microsoft Windows 10 Exam 70-698
Microsoft Windows Server 12 Exam 70-740
Microsoft Windows Server 12 Exam 70-742
Cisco/Linux Specialty Courses
Cisco ICND 1
Cisco ICND 2
CompTia Linux+
Students focus on these certification objectives:
CompTIA Linux+ LX0-103 Certification Exam Objectives
Interconnecting Cisco Networking Devices Part 1
Interconnecting Cisco Networking Devices Part 2
As a graduate of this Maine-based program, you'll feel comfortable installing, configuring, and troubleshooting network systems.
"My experience at NTI has been great. I don't think I would be where I am today if it wasn't for the encouragement and assurance from the NTI staff. Thank you NTI for this great experience."
– Theresa Osgood

Course Delivery
Everyone learns differently. NTI's exclusive "FLEX-TRAIN" was designed to address each student's individual learning style and pace. Our unique blended learning format was created especially for adult students, and offers a high degree of flexibility. This innovative and successful approach sets NTI apart from other schools.
Our programs allow you to progress through material with the aid of one-on-one instruction, multimedia software, interactive courseware, and measurement testing. And because our learning model is so flexible, NTI students can match their training schedule to the demands of their personal lives.
Full & Part-Time Schedule Options – Choose the Program that Works Best for You
Find Out More…
For more information on this career and to explore whether training as a Network Admin & Design professional at Northeast Technical Institute is right for you, fill out the form on the side of this page to receive free career and program information right away.
Get the answers you need…Fill out this form for your FREE Career Starter Guide complete with career analysis, videos, school catalog and more!
To speak to a friendly and knowledgeable NTI Career Advisor, call us at 1-800-447-1151. Ask about coming in for a free tour of the campus nearest you. See for yourself what career training from NTI is all about, and how this could be the change you're looking for.
Companies That Hire Our Graduates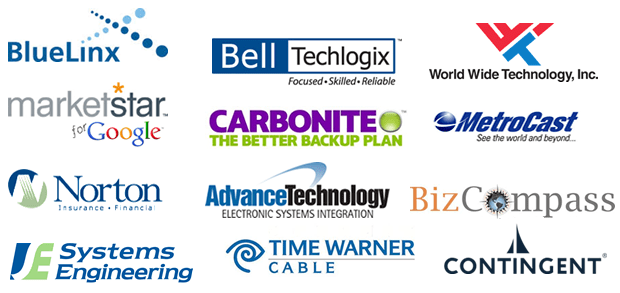 *This program is offered at the Scarborough campus.