Continuing Education
Oil Burner Technician (NORA Oilheat Bronze Certification)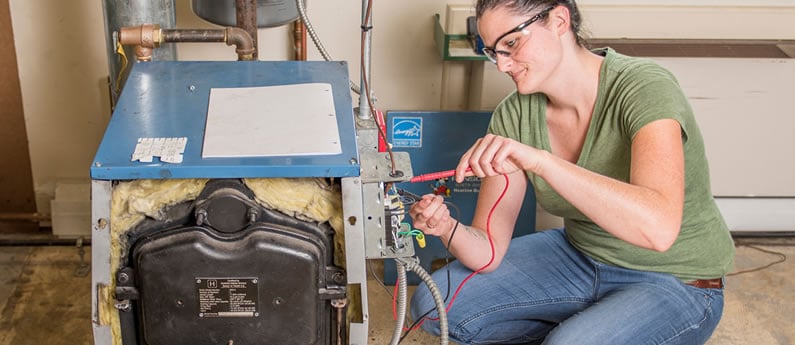 This NORA Certification program combines 80 hours of classroom instruction with 80 hours of hands on training in a shop environment. Students develop their knowledge and skills related to residential and commercial oil heating.
Upon completion of this course students test for the NORA Bronze certification exam. This course is recognized for licensing in the State of Maine, allowing students to sit for their Journeyman Oil Burner Technician after just 6 months of field experience.
Topics covered include;
heating oil and its properties
oil tanks and piping, fuel units, nozzles, combustion chambers, drafting & venting
combustion properties, basic electricity, ignition systems, motors controls, thermostats, hydronic and forced air systems
maintenance and service
This course gives students the skills, knowledge foundation required for apprentice oilburner technicians.
Course Objectives
Properly troubleshoot, diagnose, repair, maintain and service popular brands of oil
burners including, Beckett, Carlin, and Reillo
Perform installation and maintenance on hydronic boilers, forced air furnaces and related piping and/or ventilation systems with minimal supervision
Seek employment in an entry-level position with independent HVAC contractors, property management companies, or large buildings such as hospitals and hotels
Demonstrate a thorough grounding in the fundamentals of heating system design,
installation, operation and analysis
Properly perform assigned duties demonstrating proper safety practices and procedures in the lab and the workplace, while installing, designing, troubleshooting and servicing oil fired systems
Maintain a safe and OSHA compliant work environment
Document and maintain equipment / service records
Multitask and prioritize all duties and responsibilities in order of importance
Maintain the highest level of professionalism
Test for a NORA Bronze certification
For schedules, start dates and pricing, contact us at 207.805.8000 or email con-ed@ntinow.edu.
More About Certification
NORA (National Oilheat Research Alliance)
NORA is a collaborative program established by the oilheating industry to strengthen the industry by improving education and training for employees in the industry.  The Bronze Certification is a program for people who have minimal field experience as an Oilheat technician. The Bronze Level certification will give individuals recognition in the industry and teach individuals the fundamental skills of Oilheat.
Find Out More
For more information on this course, schedules, start dates, pricing and more – contact us at 207.805.8000 or email con-ed@ntinow.edu.