School Comparison
How long do you want to wait before starting your new career? The average career training program at NTI is about six months* in length. This timeline shows how fast you can achieve your career goals compared to a four year school.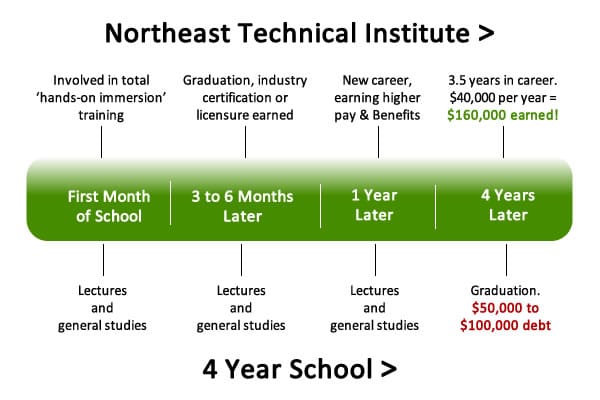 In just one year* from high school graduation (or from your previous job), you could be well established in your new career while your peers are still sitting in lectures and three years away from graduating school.
If you're looking to make a positive change in your life – but you don't have 2-4 years to spend in school – NTI could be the solution you're looking for. Complete a professional training program and get into the workforce in as little as a few weeks. If attending 2 or 4 years of school isn't right for you, call NTI today.
You can earn national certification and your career diploma in about 6 months*, and in just weeks* if you attend the CDL Truck Driving or Phlebotomy program.
Getting started in one of our short-term career training programs is easier than you think – Get the answers you need…
Is Northeast Technical Institute Right for You?
The best way to see if going to school and training in a professional career is right for you is to visit the NTI campus nearest you. You can tour our modern facilities and meet with our instructors who work in this field. Click here to schedule your free campus tour, request more information, or call 1-800-447-1151 today.
* Program length when completed in normal time.